There are two myths about plastic surgery that I want to dispel. The first is that we can actually make someone look like someone else. The second is that there are many such patients who make such bizarre and pitiful requests.
This "child" already looked much like Justin Bieber. Whatever was done had to be but small tweaks. I'll be impressed when someone can make Cy Young winner Randy Johnson look like Justin. http://sportsillustrated.cnn.com/multimedia/photo_gallery/1001/sports.figures.on.the.simpsons/content.16.html
Other than when the sycophant starts out looking like the celebrity, the only time this goal can be realized is when the celebrity themselves looks like a caricature. If you aggressively lighten the skin of a black person, give them painted on eyebrows, a broad chin, and a maimed nose, they will sort-of look like Michael Jackson. That's because no one else looked so weird, and emulating that will remind observers of him.
Patients will make a request for a specific nose, mouth, or breasts. But in my entire career I've never seen someone want to look like someone else in particular. If I ever saw such a person I would chase them out of my office. Unless the celebrity themselves hired someone to be a stunt double or a security double, I can't imagine a good reason to do that. Even so, I wouldn't do it.
But I have heard plastic surgeons say that they should fill their waiting room with celebrity doubles so that when real patients come into the office they will think they are seeing the plastic surgeons to the stars. But they were only joking. At least I hope they were.
The more interesting topic is what the laws should be concerning this when the day comes that a plastic surgeon can actually make a replica of another person. Should they be allowed to do it? Don't we all own the rights to our own image? Perhaps twenty-five years from now this will be a hot topic.
For now let's realize that in reality plastic surgery is about improving self-esteem as ONESELF, and not to be a body-double for someone else.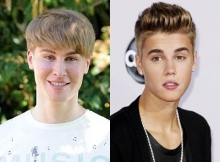 There's another nut in the plastic surgery news, this time a kid who has had plastic surgery to look like Justin Bieber. http://www.thehollywoodgossip.com/2013/10/justin-bieber-plastic-surgery-fan-pays-100k-to-look-like-singer/