Here is an example of the opposite: using something unique from the body to improve the quality of man made products.
We've all heard that spider silk is stronger than steel. Human bone is also amazingly strong for its weight. Scientists have studied the microscopic make up of human bone, and have used 3D printers to create manmade materials that are lightweight and are the strongest materials ever made.
This is absolutely fascinating and this article is a fun read:
http://www.latimes.com/science/sciencenow/la-sci-sn-bone-architecture-3d-printing-bioinspired-20140203,0,3396906.story#axzz2tbibZ1hm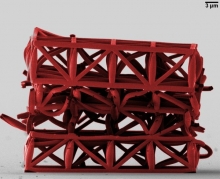 We are accustomed to having scientists using man made technologies to fix human bodies.