This report claims that an "unlicensed cosmetic surgeon" in Vietnam threw a patient's body into a river after she died on the operating room table during a "breast enhancement procedure."
If true, this story is so repulsive that no elaboration is needed.
While I've never heard of a surgeon dumping a body in the United States, we also have a crisis of unlicensed cosmetic surgeons.
While your state licenses a plumber to only do plumbing and an electrician to only do electrical work, the state gives all doctors the same medical license. Nothing prevents any doctor, no matter the type of training or even in absence of any training, from performing surgery. Indeed, a doctor does not even have to be board certified to practice medicine or surgery.
There is only a single board recognized to credential plastic surgeons: The American Board of Plastic Surgery https://www.abplsurg.org/moddefault.aspx
There are many bogus, mail-order, and unrecognized boards, so it is important to be certain your surgeon is a member of that board.
All doctors can call themselves a plastic surgeon. But in general – only in general – those calling themselves cosmetic surgeons are not boarded certified by the ABPS. Like the case of this Vietnamese surgeon, the non board-certified doctors tend to call themselves "cosmetic surgeons." Real plastic surgeons will typically (but not always) call themselves "plastic surgeons".
So be particularly cautious of any surgeon calling themselves a "cosmetic surgeon." But it is wise to be sure that any surgeon is certified by the ABPS. Another way to check that your surgeon is an expert in aesthetic surgery is to be sure that they are a member of the American Society for Aesthetic Plastic Surgery http://www.surgery.org/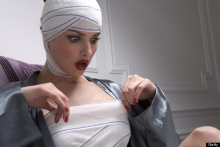 https://medicalxpress.com/news/2014-12-vietnamese-surgeon-dumping-patient-body